---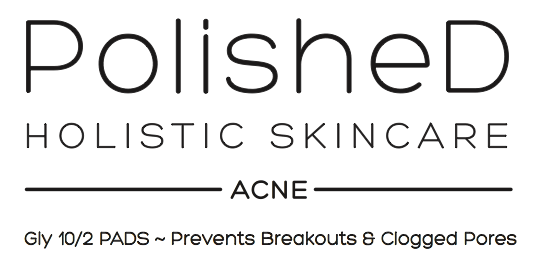 PolisheD Holistic Skincare Acne Pads
---
Helps to prevent acne pimples and breakouts

Controls oil

Reduces breakouts and clogged pores

Exfoliates surface of the skin

Helps enhance skin clarity

Hydrating ingredients to add moisture
HOW TO USE: After cleansing affected area, wipe affected area with pads leaving product on the surface of skin. Then apply any treatment, moisturizer and/or sunscreen.  Do this 1-2 times a day.
If excessive drying of the skin occurs, start with once a day application, then gradually increase to two times a day if needed or as directed by a physician.
If extreme dryness or peeling or persistent redness or dark spots occurs, reduce frequency of application to every other day and slowly increase frequency.
Complete Your PolisheD Regimen
We recommend
1. Cerave Hydrating Face wash or PolisheD Holistic Skincare "SKIN SO BRIGHT" Wash
2. ELTA MD Clear or ELTA MD Daily sunscreen
3. PolisheD Ultra light Moisturizer for dryness
or
PolisheD Holistic Skincare Acne Kit
Ingredients:
Active: Glycolic Acid,Salicylic Acid.
Inactive: Witch Hazel, Vit A and C Purified Water, SD Alcohol (13& V/v), Witch Hazel, Ammonium Hydroxide, Polysorbate-20, Disodium EDTA, Sodium Benzoate, Acetone, Imidazolidinyl Urea.
---
More from this collection